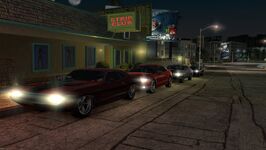 Welcome to the ICU clan's wikia page
If you are looking for the alternate homepage, click here!
SYSOP NOTE: ALL NON-MEMBERS ARE BARRED FROM EDITING THE MAINSPACE, DUE TO AN INCREASE IN THE THREAT OF A ROFLCOPTER ATTACK
This is a wiki about the ICU clan on Xbox LIVE, and its motorsports division. For recent news involving the clan please see the bottom of this page.
Random links that you should look at but we know you won't
Please look at the following links:
Photo Contest
Never mind, new Wikia design does not allow for a sidebar.
How to join
Send a message to a trusted admin (LionHeartVictor, Progamer7100) saying that you want to join
Look at The rules and obey by them
Complete the ICU driving test (that doesn't exist yet)
Complete the BC2 test (that doesn't exist yet)
Do something I give a damn about
The ICU Clan: A history and short description
ICU is a clan created by a former close friend of the current leader's sometime ago. He later left the clan, leaving it to its current owner. He later rejoined the clan. On July 19, 2010, two more people joined the clan and a ranking system was developed. On the same day, a new division called ICU Motorsport was developed, and focuses on racing games such as Forza Motorsport 3, Test Drive: Unlimited, DiRT 2, and Gran Turismo 5
Latest activity
ICU News
Latest News:
We are making a joint club with The Company on Test Drive Unlimited 2, and are accepting members now. In the following days, the club will be expanded upon to have a 2-car garage with a TVR Sagaris in Company Purple and another vehicle which is yet to be chosen.
3/17/11, 10:29EST(pm)
Other News:
The Wikia may fall victim to a spam attack, I have IPblocked the user who may be the lead and will be closely monitoring the Wiki until the threat has diminished. 2/28/11, 7:02 EST(pm)
Offtopic News:
Ubuntu Linux is officially awesome, and beats M$ Windows in every imaginable way! 2/28/11, 7:03EST (pm)
4 months until I get my first paycheck and buy a Mac :D 3/1/11, 2:57EST (pm)
Community content is available under
CC-BY-SA
unless otherwise noted.